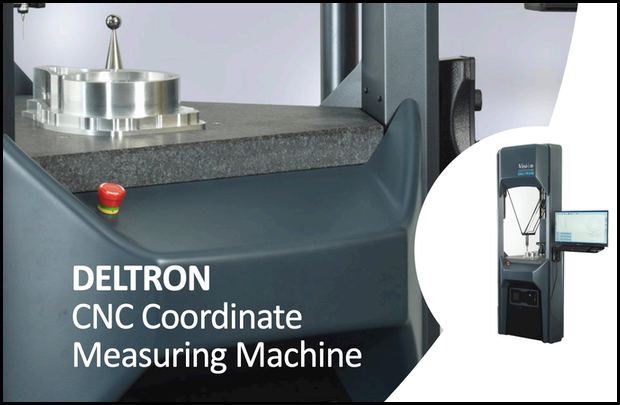 DELTRON Key Features
• Machine tool grade, fully sealed cross-roller bearings for robust yet smooth operation
• Built-in temperature sensors maintain accuracy even when ambient temperature is not controlled.
• Allows integration into fully automated manufacturing cells
• Easy-to-use yet powerful measurement software
COMPACT | ROBUST | ACCURATE | REPEATABLE
Designed for smaller machine shop/shopfloors where space is valuable. Deltron is a robust CMM with a compact footprint, which can be used standalone, or integrated into a manufacturing cell. Featuring state-of-the-art Delta configuration, high levels of measurement accuracy and repeatability, and powerful yet easy-to-use software.
For those with limited shopfloor space, Deltron is a robust and accurate shopfloor CMM, combined with compact footprint, but with substantial construction to ensure stability. This unique combination is only made possible by its state-of-the-art Delta mechanism design incorporating carbon fibre rod construction, and well developed software control.
Key Features
Deltron features fully sealed recirculating bearings, delivering four key benefits – no dirt ingress, no gearbox, no compressed air requirement and smooth, fast operation. Together these deliver exceptional accuracy, simplicity and reliability. Scale resolution of 0.1 μm and volumetric accuracy of (2.6+0.4L/100) μm combined with maximum acceleration vector of 750mm/s2 delivers a high level of confidence in the measurement output – speed and accuracy you can rely on.
Five temperature sensors monitor Deltron and its surroundings, and automatic temperature compensation means measurements are reported as if they were taken at 20°C. Always accurate, even in a changeable ambient temperature. Deltron's leading edge design combines a compact footprint with easy accessibility and surprisingly large measurement volume. It is at home working alongside machine tools on the shopfloor. Use it standalone, or integrated into a manufacturing cell. Automatic Tool Offset Correction enables utilisation in a fully automated production process. Situate Deltron exactly where you need it for use as an automated inprocess measurement system with closed feedback loop.
VITOUCH3D SOFTWARE – YOU'RE IN CONTROL
A powerful, yet easy-to-use user interface, increasing component throughput and minimising the learning period of new users.
ViTouch3D software has a familiar, user friendly and intuitive interface, easy to learn for a range of operators – measure in minutes. It's feature packed specification includes GD&T dimensioning, RPS alignment and SPC data analysis – suitable for occasional users or full time inspection professionals.
See the full brochure below: